Accommodation
1. Hotel Catalonia Barcelona 505
This hotel is situated in the upper area of Barcelona, next to Park Güell and the Science Museum. The hotel is close to important medical centres and is also next to the Blue Tram, which takes you to the cable car for Tibidabo.
It has an interesting restaurant where guests can enjoy tasty international cuisine. The hotel is well connected so that guests can enjoy the city of Barcelona from every viewpoint.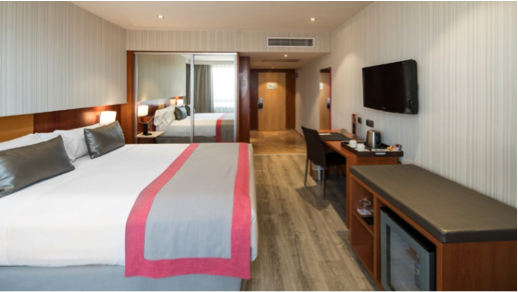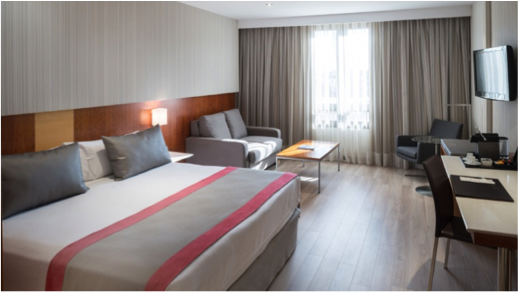 2. Hotel Astoria
The Astoria is a classic amongst Barcelona's hotels, a 3-star boutique hotel located off the emblematic Avinguda Diagonal and steps from Passeig de Gràcia, the city's trendiest shopping district. Elegant and modern, the hotel provides comfort and charm with every detail. Housed in an elegant building in Barcelona's Eixample district, the hotel's classic mid-twentieth-century architecture is a striking contrast to its renovated interior. One of the hotel's main features are the exquisite pieces of art—modernist posters, frescoes and busts alongside marble and delicate Lalique crystal—that decorate its walls.
The hotel has 117 elegant rooms, a business center, meeting rooms and unsurpassable venues like the terrace and outdoor swimming pool, rooftop gym and sauna, gourmet restaurant and museum dedicated to the Catalan illustrator Ricard Opisso.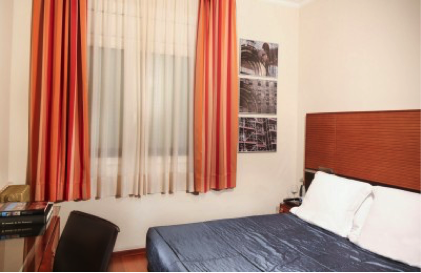 I you want to book this hotel, go to Registration and follow the proper link to proceed.


3. Residencia d'Investigadors
We have booked up to 30 rooms in the Residencia d'Investigadors, http://www.resainn.com/accommodation/barcelona/investigadors-residence-hall/
In an exceptional location in the real heart of Barcelona, it is far away from the conference venue. It may take around 40' to reach CosmoCaixa from there. However, the prices are exceptional cheap (rooms at 60€/night or 73 €/night, breakfast included), and you will be at walking distance to a good part of the tourist sites.
If you are interested, please book a room soon, as they will soon disappear. To book this hotel, go to Registration and follow the proper link to proceed.